*****Initial material assembled in July 2018*****
Locomotives by Windsor Models and Exley; some illustrations
UNDER DEVELOPMENT 2018, AND SUBJECT TO CORRECTION
These two firms were potential contemporary competitors for Milbro in the years before World War Two, and both continued to supply locomotive models after the war (when Mills had ceased offering a range of locos in its catalogues). It seems that Exley and Mills sometimes collaborated, but I have not so far seen anything to suggest a collaboration between Mills and Windsor Models.
WINDSOR MODELS
This firm appears very undervalued in the literature of UK model railways history, but the company produced good locos which related well to contemporary prototypes. Furthermore, this was one of the pre-war model-building enterprises that survived into the post-war years, when some very fine models were made.
Windsor Models Company locomotives sometimes turn up on Ebay or from dealers, but I do not necessarily always find it easy to identify them with certainty. Their earlier models generally seem to be of tinplate, while later on they were made in nickel silver. One standard feature was the use of a brass footplate edging section running along the locos below the footplate on each side (although other companies also used this feature from time to time). This practice was mentioned in Windsor catalogues, and the firm also offered to build bodies in brass if requested. As far as I can tell, the tank locos generally would have had simply-designed fixed frames below the bodies at front and rear (as with LMC), although when an owner changed the mechanism the replacement unit was sometimes sited within new full-length brass frames (and the original fixed tinplate or nickel sections might be removed).

Someone wanting to collect relatively inexpensive vintage models of good quality could well choose this company, although time and determined searching might be needed to assemble a solid group of examples. Like some standard tank engines of the LMC range, Windsor locos might be improved, enhanced, adapted or repainted by enthusiasts, offering a way of achieving even more realistic representations of diverse prototypes at very reasonable prices. Many Windsor engines must have given long and useful service on layouts. In addition, the company could build excellent special order items, and some of these appear amongst the examples below. In the post-war years the proprietor of Windsor Models created several engines for the well-known Sherwood layout, an 0 gauge railway that featured frequently in the model railway press. Reference is made again to this layout below.

It seems that a variety of clockwork and electric mechanisms were used over the years of production (including Bassett-Lowke clockwork mechanisms and Leeds Model Company electric ones). It may be that economy sometimes led to the insertion of four-wheel clockwork mechisms into locos with six driving wheels.

Acknowledgements and sources
* I am very grateful for help I have been given with advice and material for this section, and for catalogue pages and photos of engines.
* For useful information on Windsor Models, see the section at the binnsroad website
* For helpful recent coverage in print, see 'Smaller Manufacturers (2) Windsor Models' and 'Smaller Manufacturers Update 2' by Bob Burgess in the Newsletter of the Bassett-Lowke Society; 24, 1, February 2014, pp. 14-15, and 24, 2, May 2014, p. 22. Pictures are shown there of documents and of a GWR Castle, and of a Patriot Class loco (which is also included amongst our illustrations).
* I hope to add later some references to a selection of the journal articles that have covered aspects of the Sherwood layout and its engines.
A few introductory pictures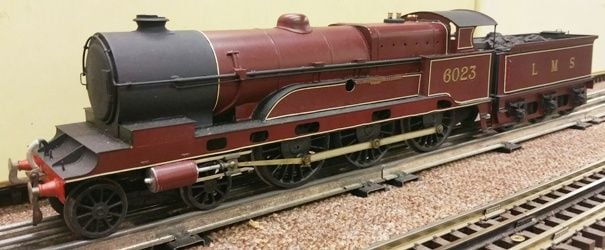 Illustration WM1 An excellent special order LMS (ex-LNWR) Claughton, 'Sir Charles Cust', made by Leslie Forrest, the proprietor of Windsor Models. I have been informed that this loco dates from 1956, is made of nickel silver, and is fitted with a Bassett-Lowke 6-wheel clockwork mechanism.
I am grateful to the owner of this loco and of some of the others shown below for providing valuable illustrations and information. Number 6023 was supplied by Forrest for the layout of Norman Eagles. This model railway was widely known amongst 0 gauge enthusiasts, and was referred to as 'The Sherwood Section of the LMS' . The layout and its engines featured in a large number of articles and comments in model railway journals and books over a long period (and even into the 1970s: see for instance pages 33 and 37 in Hornsey, P. (ed.), 'An Introduction to Model Railways', New English Library, London, 1977).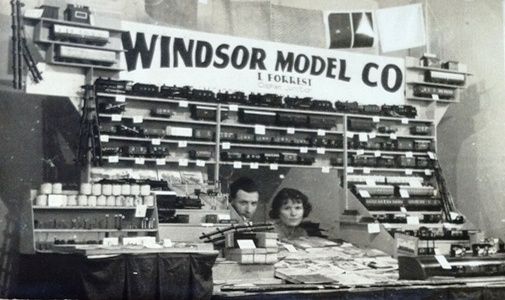 Illustration WM2 I have tried to reproduce here a photograph that turned up on Ebay. The original has a browner look to it, but carries no date. Written on the back in capitals is the pencil comment; 'Leslie and Pat at the London Exhibition'. There is a very impressive array of model locos on the top shelf, and it is a pity we cannot see them better !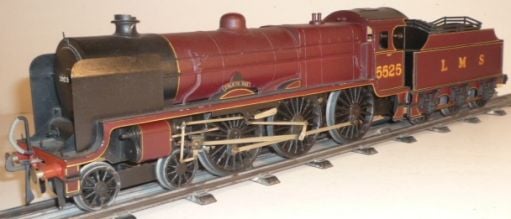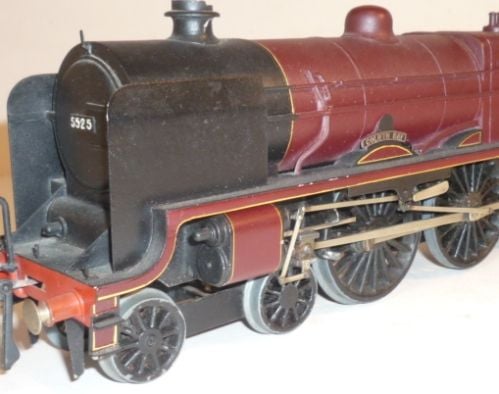 Illustrations WM3a and WM3b I am grateful to Mike Delaney for providing these two pictures (and two more shown below) of an excellent Windsor LMS Patriot loco which Mike sold some time ago through his well-known vintage trains website. LMS number 5525, 'Colwyn Bay', was made to a high standard in clockwork by Leslie Forrest during the post-war period of production (like the Claughton shown above). I understand the model was directly linked with Leslie Forrest through family connections.
Catalogued locomotives from the pre-war period
The variety and realism of the engines on offer in the 1930s can be seen from the catalogue pictures below, and from comments in the firm's texts. The prices may be compared with those in Milbro catalogues (where figures are much higher for comparable engines within the Mills scale model range). It has been said that the Windsor Model Company "had the laudable policy of building the best model possible at a reasonable price" (Gomm, P.G., 'Older Locomotives, 1900-42', Troy Model Club Series, Nelson, London, 1970, p.37). Thus, despite the relatively modest prices being asked for what were semi-scale models, the catalogue illustrations showed engines that were quite convincing even when representation was having to be significantly simplified. My guess, however, is that quality in any case may have varied a little over time as well as to match demand and specific commissions, and perhaps particular engines might vary from the catalogue pictures on specific details. Going over fully to nickel silver for locomotive bodies at the end of the 1930s might itself be seen as an indicator of rising standards and expectations. In addition, although a few of the earlier tinplate locos may seem relatively plain, there were probably some higher quality special order models even in that period.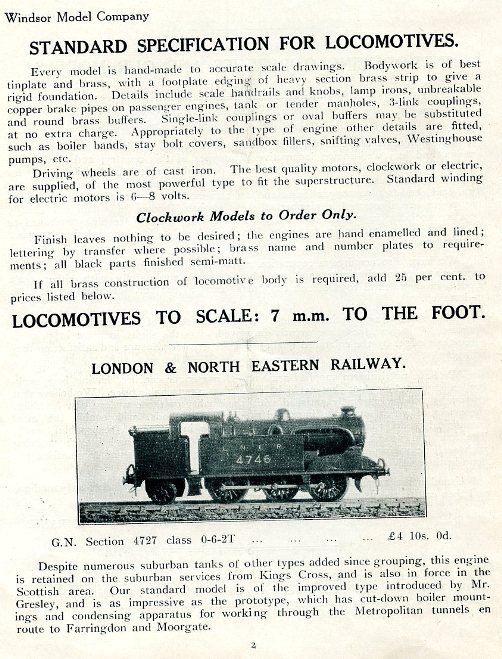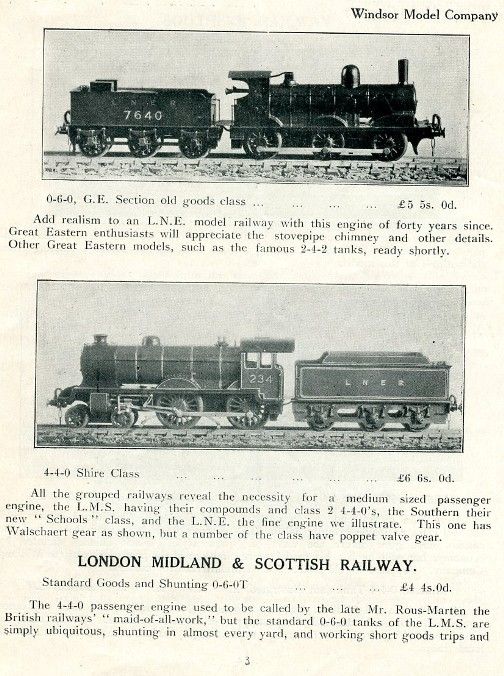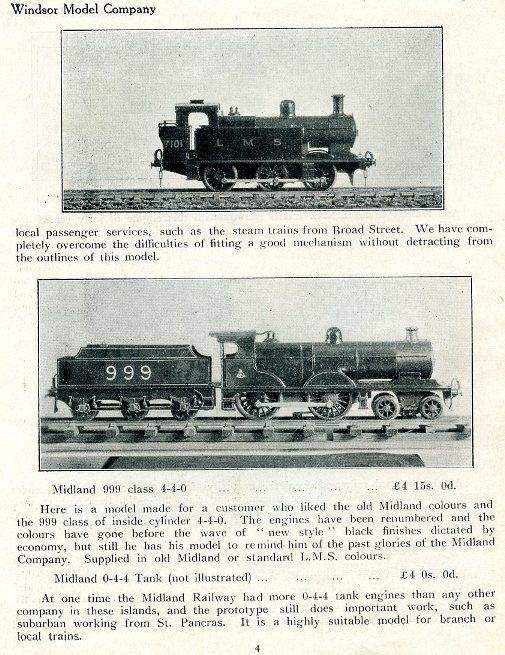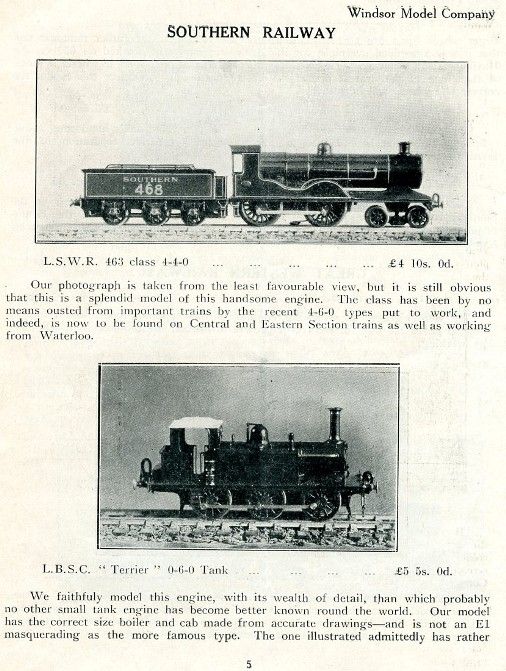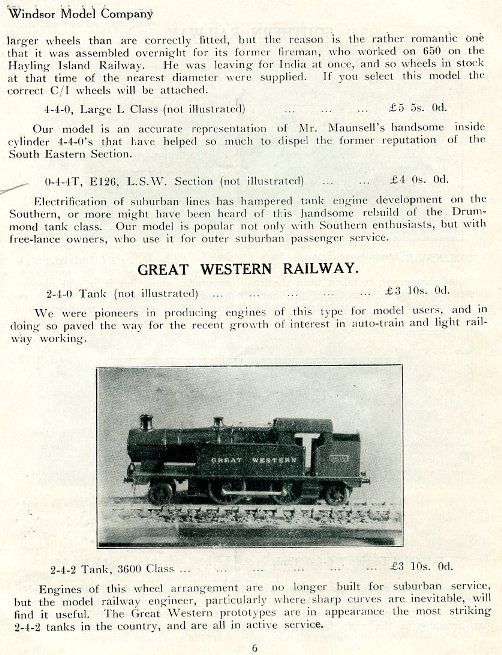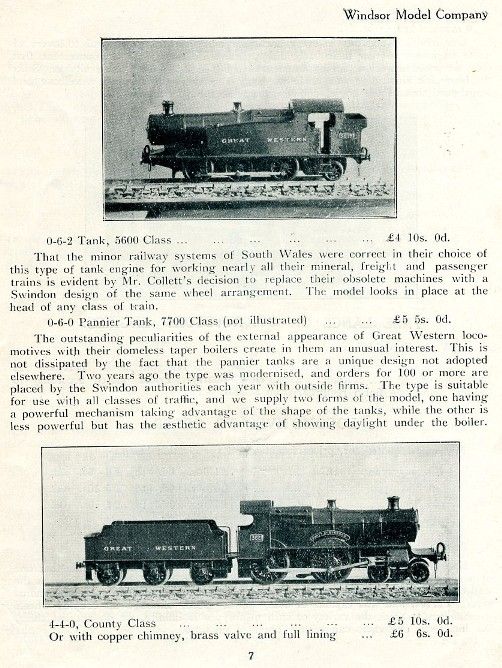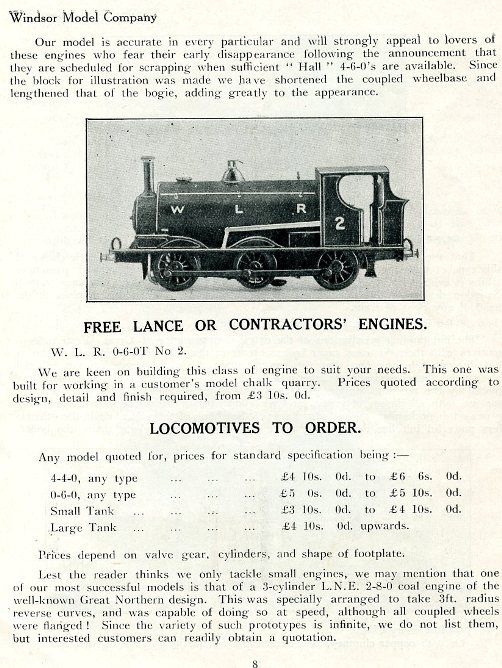 Illustrations WM7a-WM7G Pages from a catalogue produced in or around 1930. Many thanks to the enthusiast who sent me these. They outline the company's approach and show examples of the locos on offer.
The last comment in the text above is particularly worth noting, with its mention of a 2-8-0 freight loco. I have seen another large freight loco attributed to Windsor Models, a Beyer-Garratt model. This seemed to have started out with two clockwork mechanisms, although these had been replaced with modern electric ones. It was an attractive but quite simple version of the LMS prototype.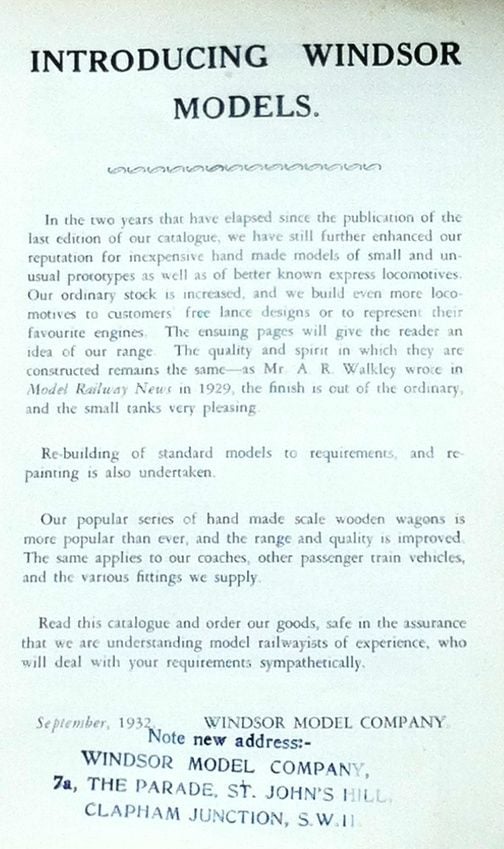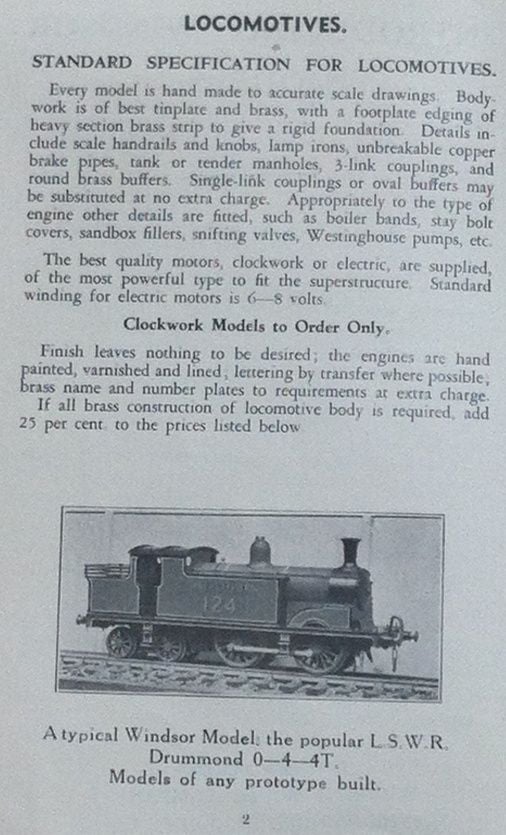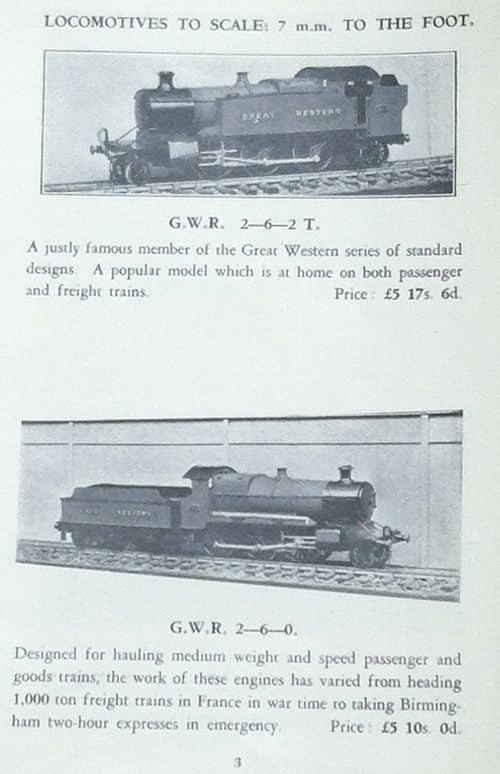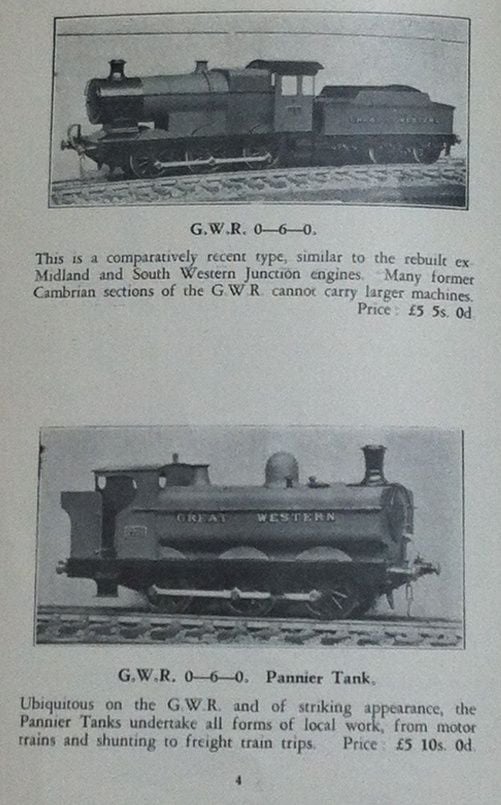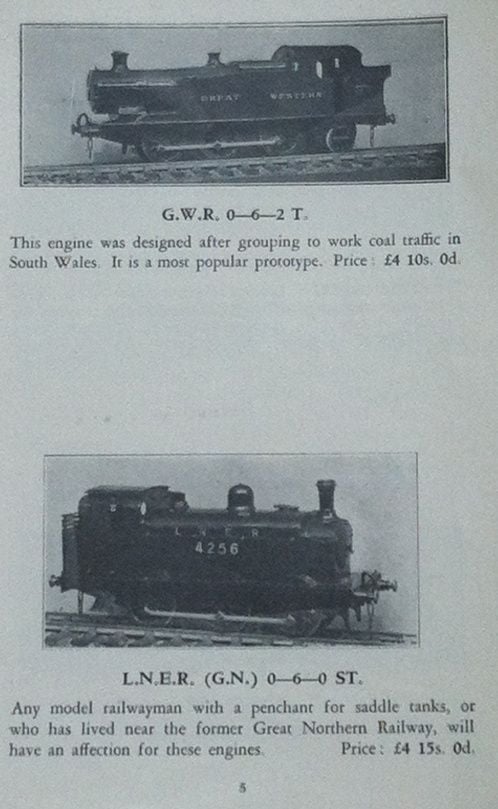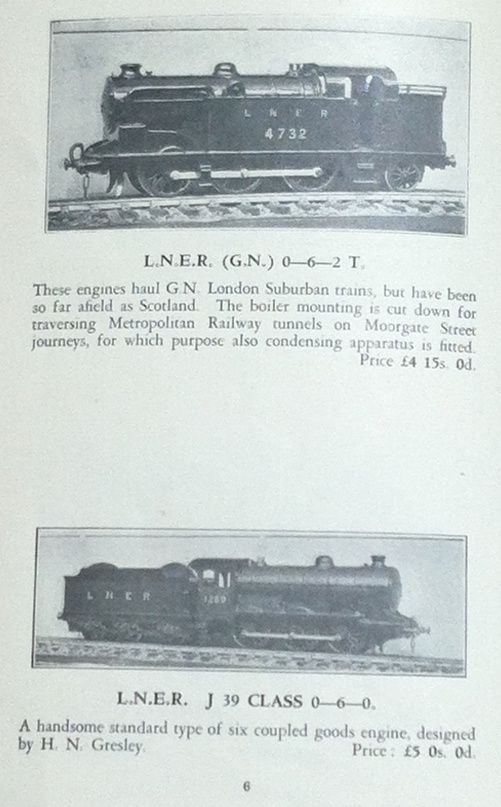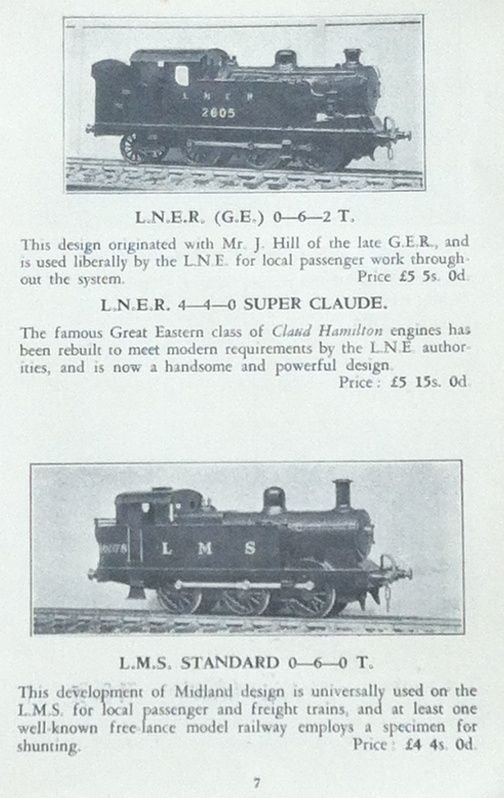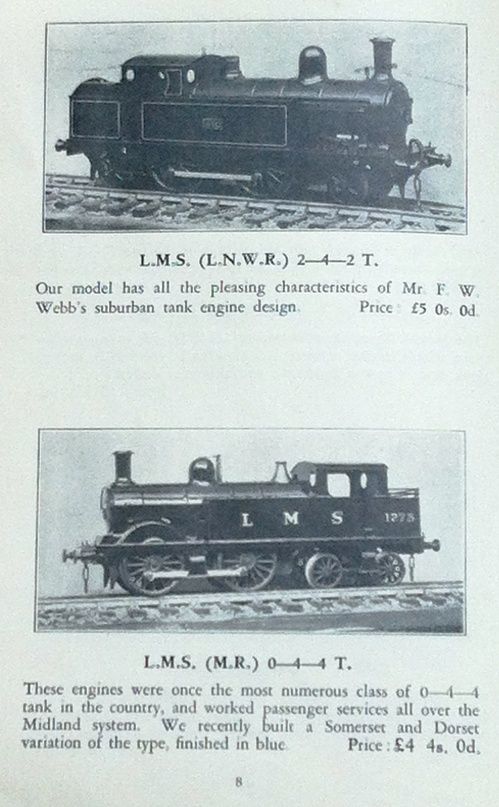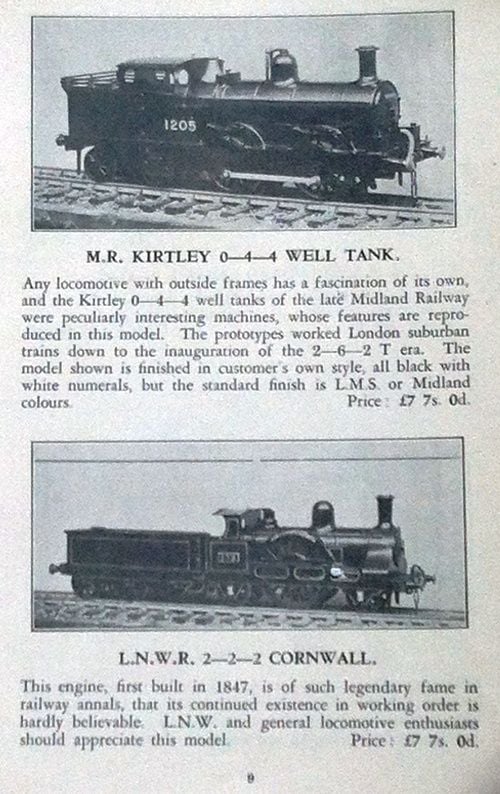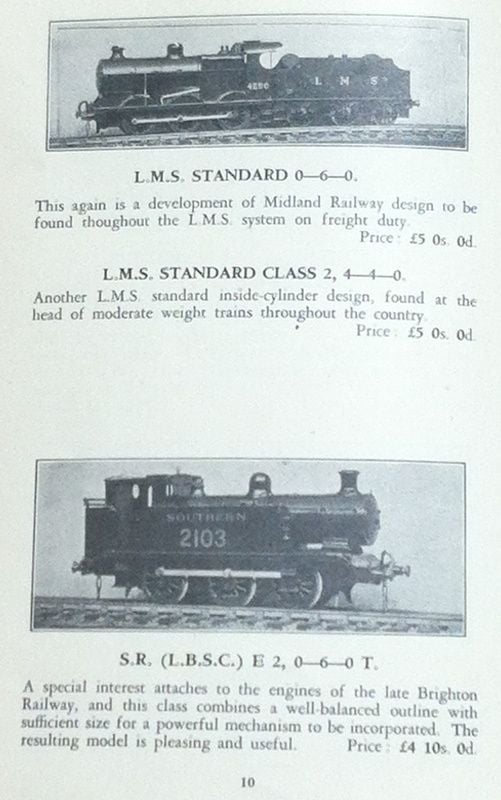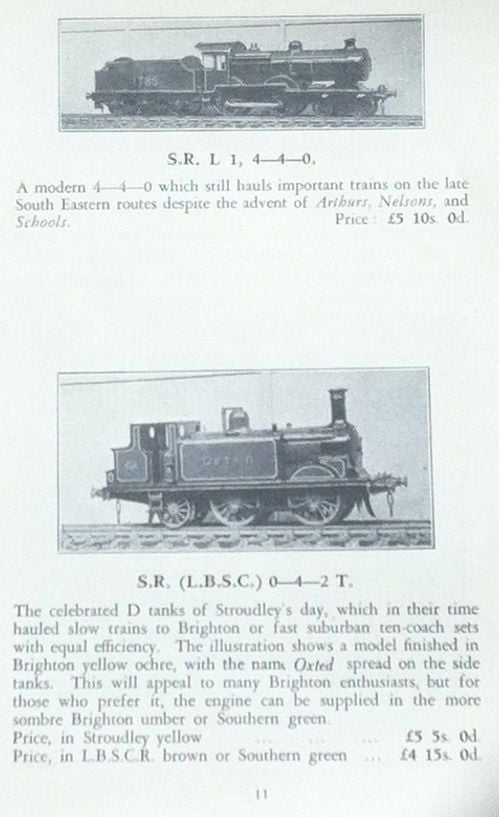 Illustrations WM8a-WM8k. Pages from a catalogue produced in 1932, showing an impressive array of distinctive locos. The pictures include thirteen tank engines and six small- or medium-sized tender locos.
Images of some of the locos catalogued before World War Two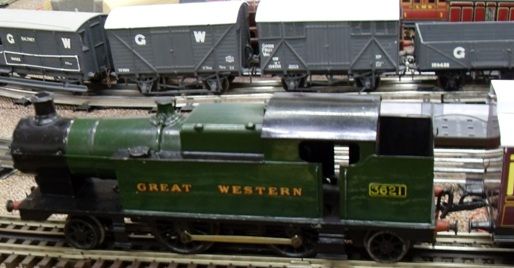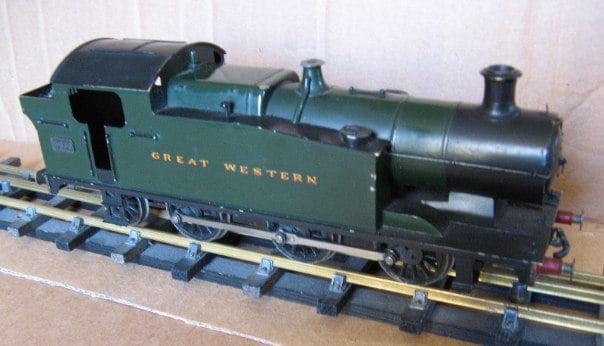 Illustrations WM9a and WM9b Two GWR tank engines from the Windsor range. Thanks are due to the owner of the 2-4-2 tank for letting me have the first of these photographs. The 2-4-2 has a 12 volt DC mechanism.
The 0-6-2 tank is made of nickel silver, a material the firm went over to at the end of the 1930s. It has been converted from clockwork, probably in the 1940s or 1950s, and now has full-length brass frames inside. Despite simplification, it is in my view a very convincing model for its period. Apparently this particular engine belonged - rather appropriately - to a South Wales model railway club.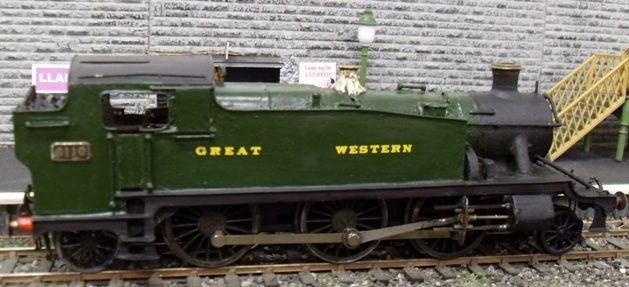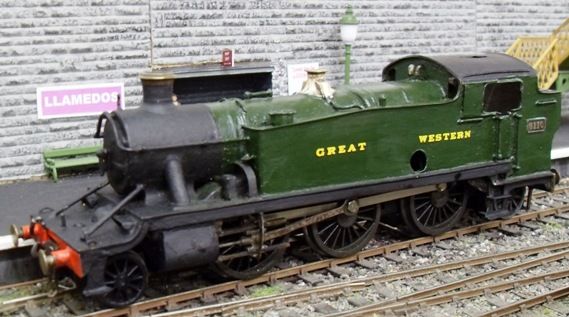 Illustrations WM10a and WM10b Two pictures of another GWR tank loco, a 'prairie' catalogued in the 1930s by Windsor Models. Many thanks to the loco's owner for these photographs, which were taken at model railway shows. The engine started out as a clockwork one (and the keyhole has been retained), but given the damage to its original mechanism it was converted to electric running. It has also been repainted.


Illustration WM11 I am not certain that this 4-4-0 was made by Windsor Models, but in the absence of further information (and given its construction style) that firm seems at the moment the most likely maker. It has been a clockwork engine at one point (although not necessarily when first made), but came to me with no mechanism at all. Although a BR loco, it has LNER on its tender, and perhaps was made at the end of the 1940s or in the 1950s. It seems to be constructed primarily of nickel silver, looks to have been professionally made, has modest but effective detailing, and was built to be quite robust. There was no nameplate on either side. A loco of this class was catalogued much earlier by the firm (although with a different tender and detailing), and perhaps this type of engine may have remained in the Windsor repertoire right through into the post-war years. The 4-wheel Bond's mechanism shown in our coverage of Bond's elsewhere on this site seems potentially to be a good fit for this engine (see Illustration V37), and it might even have had such a motor when first built.
Uncatalogued models and special orders
I have only had access to material from two Windsor catalogues, and there may have been further advertising material I have not seen, showing additional engines. From the material to hand so far, however, it looks as if the items below were not catalogued. If any reader knows that to be incorrect, please get in touch. Advice from an enthusiast with much more knowledge than me indicates in any event that some special order models such as those shown below would most likely have been available more generally to meet ongoing requests, rather than necessarily all being made as 'one-off' products. This certainly seems to be indicated in the case of the special order 'flatiron' pictured below. LMS 0-6-4 tank number 2002 is an attractive model made for a specific model railway, the famous Sherwood layout mentioned already above. The second flatiron, pictured after it, is clearly also of Windsor origins, although older and simpler. It has had its clockwork mechanism changed (and a new keyhole has been made), and the metal has been 'cut about' inside the loco body. Nonetheless, the engine retains its original character. It is a tinplate model, and was most likely made before the late 1930s, while the more developed 2002 was made in 1953. The latter loco can be seen at a distance in a general view of a loco depot on the Sherwood layout in Hornsey's book, cited above (see page 33).


Illustrations WM14a and WM14b Two LMS (ex-Midland) 'flatiron' tank locos. The 1953 model (numbered 2002, and built for the Sherwood layout) has been given a later DC electric mechanism, having originally had a Bassett-Lowke clockwork one. Many thanks to the model's owner for supplying this photo. The older Windsor flatiron in the second picture has had its original clockwork mechanism removed and an alternative (also 4-wheeled) one fitted at some point in the past. It needs renovation inside, but has retained quite well its external paintwork and lettering. The older model is in tinplate, and has less detail than the post-war one.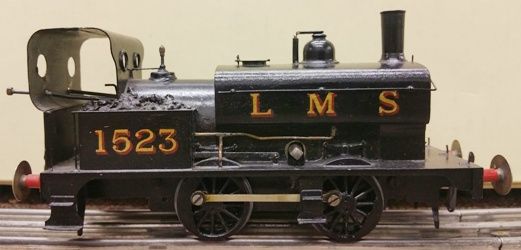 Illustration WM15 An ex-Midland LMS 0-4-0 saddle tank, also made for the Sherwood layout. Thanks to the owner of this model for letting me have the photo (and the one below). I am informed that the mechanism in this tank loco is a very small Marklin one.


Illustration WM16 The LMS Claughton shown above in Illustration WM1, this time seen from the other side.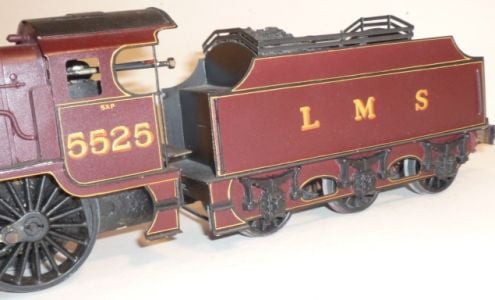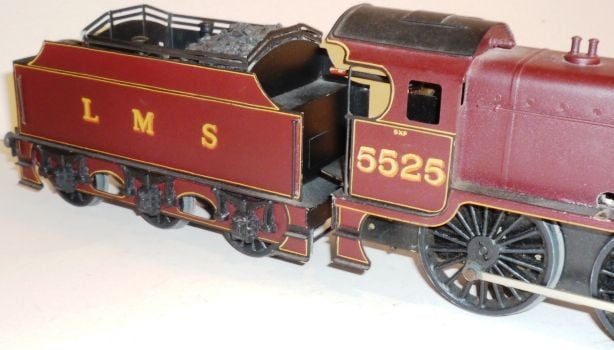 Illustrations WM17a and WM17b Two more pictures of the Windsor Models clockwork LMS Patriot loco featured earlier (in Illustrations WM3a and WM3b). Thanks again to the person who made these pictures available.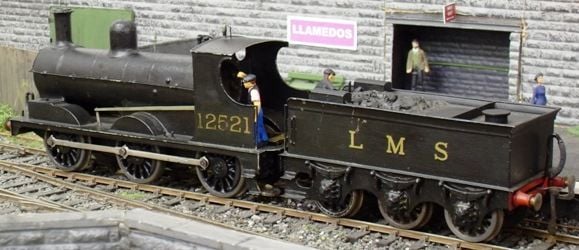 Illustrations WM18a and WM18b I am grateful to the enthusiast who has provided these two photos of a Windsor Models LMS (L&Y) 3F tender loco. It was made in 1946 and originally powered by a 4-wheeled Bassett-Lowke mechanism. I understand that - like some of the other models shown above - this one was commissioned for the Sherwood layout.
Construction style, materials and details
The front and rear frames sections soldered on below the footplates on Windsor tinplate locos seem to have been made in fairly thin metal, and were perhaps normally of relatively simple design. The brass edging sections running below the footplates of locos (mentioned in our introductory remarks above) added strength to the firm's loco body designs. I have not seen a large enough sample of Windsor locos to be able to say how far the edging sections may have conformed to a standard pattern and size, but it seems that on some locos (perhaps earlier ones) the brass sections were turned down at the ends to fit against the buffer beams. Although the company may have been using steel driving wheels as standard in some periods (or when using a Bassett-Lowke mechanism), I suspect that Leeds wheels may well also have been relied on at other times. They would have suited the goal of making something realistic at a reasonable price.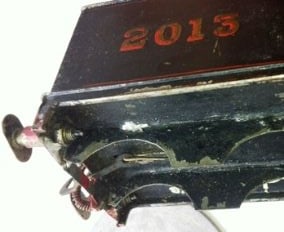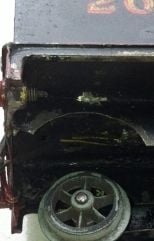 Illustrations WM20a and WM20b Two pictures of the underneath of the tinplate 'flatiron' loco shown in Illustration WM14b above. These show the brass edging strip running below the footplate, the thin buffer beams, and the fixed framing sections also made of fairly thin tinplate (albeit damaged at the buffer-beam end and incomplete). I would guess this to be quite an early model, and later ones may well have been a little more elaborate and refined.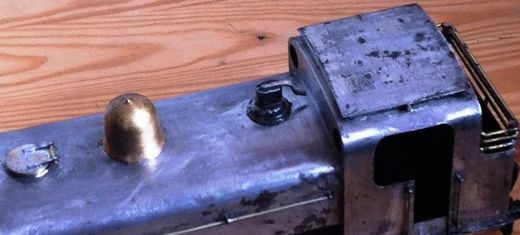 Illustration WM21a and WM21b This shows some detail from a Windsor Models LNER (GN) saddle tank that I have begun restoring. It had been repainted very poorly by an earlier owner and had also suffered some minor damage. The cab, bunker and cab roof nicely (albeit simply) represent features from the full-sized loco, while the firm's approach to fittings can be seen on top of the boiler. The two on the left are of brass (as is the chimney), while the one in front of the cab seems to be a standard Leeds soft metal product. I think that both Windsor and Exley probably sought to use fittings that were appropriate in appearance, and sometimes included soft metal ones if suitable items were available. The bodywork of this Windsor loco is mostly made of fairly thin tinplate, and the steps and buffer beams are of the same material. Some very minor parts of the body are of brass, but there is also a brass footplate edging section running along the loco below the footplate (a standard feature for Windsor Models we have noted earlier). There are front and rear tinplate frames sections soldered on below the body, rather as with an LMC loco.
EXLEY 0 GAUGE LOCOMOTIVES

(Under development; I hope to add more to this when time permits)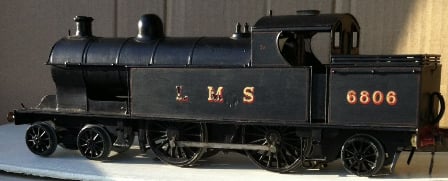 Illustrations Ex1a, Ex1b and Ex1c Two Exley engines. The first is a tank loco that has been professionally converted (probably in the 1930s) from clockwork to electric running. It has some nice detail and is well made. The second is a Gresley 1925 P1 2-8-2 mineral loco. I am grateful to the photographer who took the two excellent pictures of this model for permitting me to show them here. They were originally presented by him to illustrate the loco when it was auctioned on Ebay.
Large freight locomotives do not seem to have been modelled very often by the commercial makers of the 1930s or 1940s, but there were interesting exceptions (including a 2-8-0 and a Garratt by Windsor Models, a Bonds 2-8-0 [shown in our section on Vintage Locos and Motors], and a 2-8-0 by Mills). In the absence of any other information on its maker, I believe this 2-8-2 most likely to have been a special order or small batch item from Exley (or an Exley sub-contractor). It was probably produced in the 1930s or during the post-war years before the mid-1950s, but I cannot be certain about the date (unless some promotional material comes to light). The massive Exley motor unit connects to a gear train that is enclosed in its own self-contained framing, and this then drops between the chassis frames. Perhaps Exley was one of the pioneers for this type of arrangement, which is often seen on later model engines (and see the section on Rocket Precision mechanisms in the Other Vintage Locos and Motors section). The mechanism here still runs well.

The P1 is in tinplate, except for the long 'drop-down' sections of metal joining the bottom of the boiler to the 'baseplate' below it. These are brass (or nickel). This metalwork illustrates clearly the strategy commonly used to conceal the large motors of the vintage years. The body is also very heavily weighted with lead. A previous owner seems to have lengthened the chassis seen in the third picture by bolting on a front section of tinplate framing which was probably previously attached to the loco body. I am advised by experts on loco construction that this probably followed the loco having been dropped at its front end and then re-straightened. There also seems to have been a repaint, probably at the same time (although perhaps the tender lettering has been retained), but only minor damage or alteration to the loco body. The LNER works plate visible on the smokebox is a later addition, and perhaps may belong to a Flying Scotsman! It is possible that parts for the tender might have been supplied by Beeson.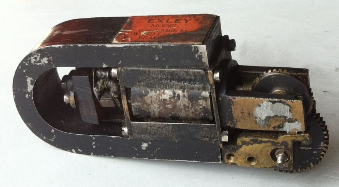 Illustration Ex2 A similar motor unit, this time with its Exley label.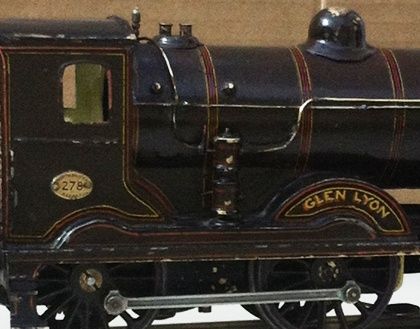 Illustrations Ex3a and Ex3b I think this model of a Scottish loco was probably made for Sir Eric Hutchison by Exley (although I cannot be certain). When 'Glen Lyon' came to me it had been given a Read-Maxwell motor that projected far back into the cab and was fitted within the frames of a cut-down Milbro mechanism from the second half of the 1930s. I cannot say what motor would have been in the loco when first made, but it currently has a full Milbro mechanism (which intrudes at least a little less damagingly into the cab area). Hutchison seems to have been a well-known modeller, enthusiast and expert, and a loco made for him (in 1926) appears in a short array of Exley models shown in one of the Model Railway Constructor annuals (see "Handbuilt Models Constructed by the late Edward Exley", Model Railway Constructor annual, edited by S.W.Stevens-Stratten, Ian Allan, London, 1980, pp. 110-113). Apart from the mechanism having been changed on the above Glen model, a previous owner also replaced the bogie with a Leeds one that was a little too large. Unusually, the Beeson number plate looks to have been fixed with rivets.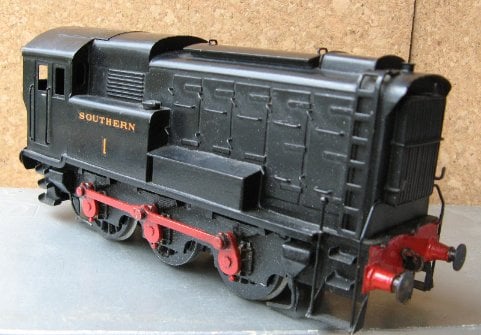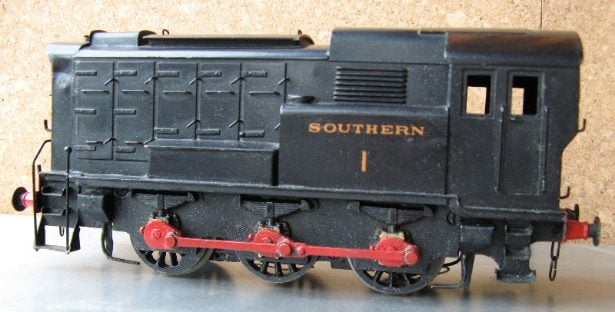 Illustrations Ex4a and Ex4b SR Diesel Shunter, believed to be from Exley. This is of tinplate and similar to an LMS one that was built for a commercial customer and featured in post-war Exley catalogues. Unfortunately, the mechanism in this SR one has been changed at some later time, with minor damage to the interior and removal of the evidence of origin represented by the original motor. I do not know if this model was made by a sub-contractor or by the firm itself.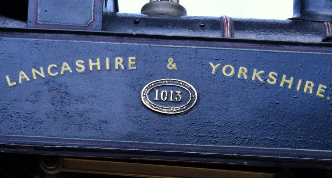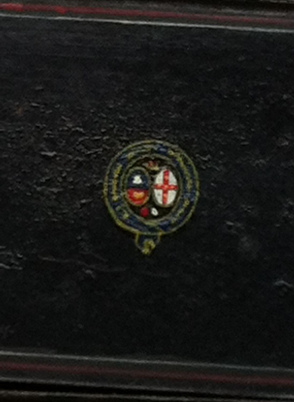 Illustrations Ex5a and Ex5b Paintwork probably by Miller, on an Exley 2-4-2 tank loco. The loco has caught the light rather more in the first photo than in the second, but it is black. I have been told that the standard of painting on most pre-war Exley engines is not very impressive, but here it is rather fine for its period. Exley seems to have used a sub-contactor to paint this engine, and I have been advised that Miller (or Miller Swan) apparently seems the most likely candidate. The coat of arms is from the bunker side, and is only around 7 mm wide. When viewed without magnification, the representation of tiny lettering is very effective here and on the loco number plate, even though there has been no attempt to copy the actual letters from the full-sized loco. A more precise approach has been adopted on the metal number plate seen in Illustrations of a G4 tank loco in the Beeson section of this site.