* The material in this section has been added to most recently in March 2018 *

Milbro Artwork illustrations

Copyright is retained by M.L.Harrison for all text and photos, except for those taken by other owners and enthusiasts.
M.L.Harrison 2020 © All rights reserved.

This section presents selected illustrations of Mills documents, products, packaging and advertising.
Correspondence, letter-heads, invoices, general packaging, boxes, trade marks, etc.
As with many railway models firms, Milbro used railway scenes or images on some of their documentation and packaging. Two of the letter-head designs that did this are shown below in Illustrations A1a and A1b. These date from August 1941 and January 1939. The 1941 letter (the first below) regrets that the firm cannot proceed with the manufacture of some goods to meet the balance of an order, as " ... all our staff are engaged on work of national importance and we are finding it extremely difficult to release anyone just now for model work."


Illustrations A1a and A1b To show two of the Milbro letter-heads. These designs and the letters they were on were of similar width, although my scans do not make that clear.

The brown packets included at the right on Illustration A2 are typical of the small envelopes (of varying sizes) frequently used by Milbro when supplying fittings, pins and track or rolling stock parts, and also for relatively unusual items such as glass panes for coaches. Illustration A3 contains another envelope of this type, with a standard Mills railway drawing included upon it. Small cardboard boxes for parts are also found occasionally, and an example of a decorated one is shown in Illustration A4 below.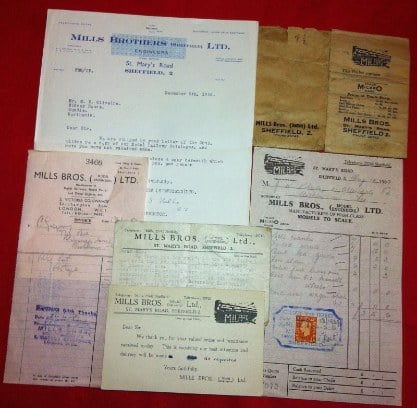 Illustration A2 A plainer letter-head from 1956, together with examples of other documents, and two of the small brown packets/envelopes used when selling parts, etc.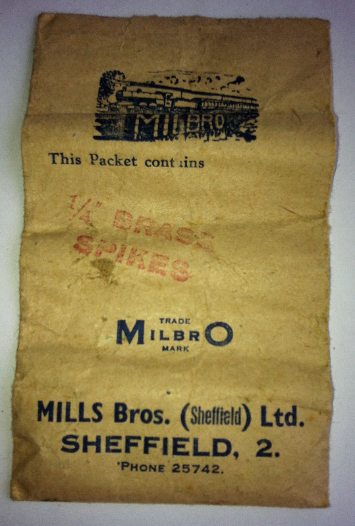 Illustration A3 Another picture of one of the firm's packets. The image of the loco shown near the top was frequently deployed by Milbro.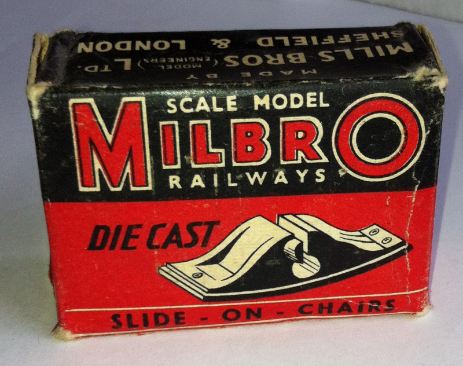 Illustration A4 A small box containing parts. My guess is that this might perhaps be of later date than the envelopes above.
Complete model railway items such as wagons or buffer stops were often also sold in cardboard boxes. The Mills ones I have seen have been plain, and often carried fairly small yellow company labels. These labels generally had space for the insertion of details, and descriptions were often written on by the company in pencil. The entry on the first example below, however, is in ink. In this case there is also a coloured sticker to indicate the livery. Glued-on brown paper strip has been used to reinforce or join things up. Sadly, a large majority of wagons and accessories today turn up without their original boxes, so it is difficult to be sure about possible variations in box design or labelling, but a cardboard wagon box may open either at its end or have a separate top that lifts off. The second picture below shows two wagon boxes with unusual white labels. The box lids look as if they might have been coloured, although they have deteriorated over time. I do not have any labelled examples at all at present of the packaging used for Milbro locomotives.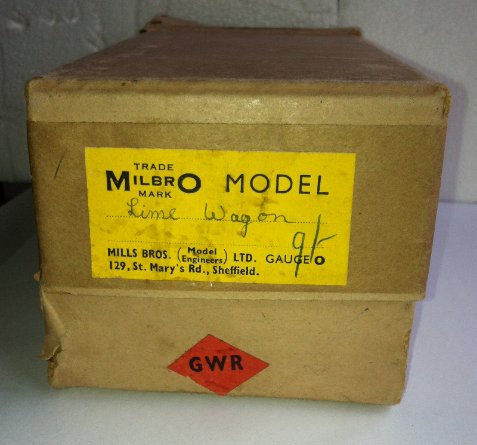 Illustration A5a A fairly representative example of the Milbro cardboard wagon boxes that occasionally turn up today. Similar ones were used for other items such as buffer stops.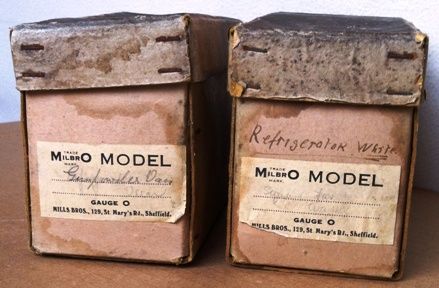 Illustration A5b Two wagon boxes with unusual white labels.
Illustration A5c Milbro tape, in this case used to secure the lid of a box containing wooden sleepers. It is surprising that the tape has survived, as it is now fairly fragile.
One of the two types of standard gold trade mark transfers added to wagons and coaches is shown in our section on wagons, and is followed there by a picture of an earlier version with different colouring. Other markings might also be found occasionally (as with the trade mark shown on a building in our section on other items). The one below is on a model tractor made in the 1940s, and features the title 'Mills Model' rather than 'Milbro'. I am very grateful to the owner of this vehicle, who sent me several photographs, and authoritatively explained the relevant history. See the section on Mills Locomotives and the Introduction section for further images and comment.

Illustrations A6a and A6b A rare example of a trade mark for a Sheffield 'Mills Model', and the special wooden box in which this item was supplied. See Introduction and Locomotives sections for pictures of the tractor that came in this box.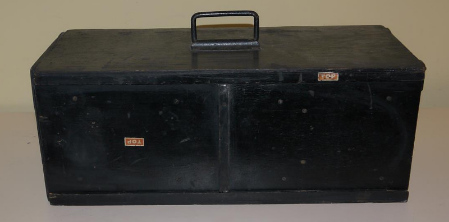 Other product labelling
Milbro produced a variety of things to be used by modellers, and the tins for paints and similar substances were obvious places to put the company name. Most Mills tins will have been lost or destroyed long ago, but I am able to show a couple of survivors below, in Illustration A7. Unfortunately, when past owners used these two tins, the contents unsurprisingly found their way onto the paper labels. Even so, readers will be able to see the styles the firm used. Some years ago I experimented with using the old Milbro LMS grey paint for restoring a wooden Mills wagon, and it was still viable, although much brighter and lighter than I had expected.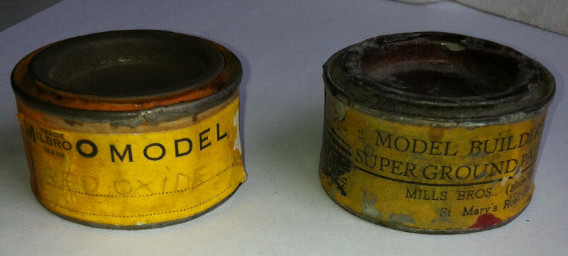 Illustration A7 Milbro tins, one for red oxide and one for grey paint.
'Functional artwork'; drawings, lithos and transfers for enthusiasts and other firms to use

Milbro was one of the suppliers of the technical drawings or plans that could be used when someone was building rolling stock, trackwork, etc. Numerous transfers were also offered for fixing onto wagons, coaches or locomotives. Although all these products primarily served practical purposes for modellers, it seems reasonable to view them also today as part of the historical record of the company's artwork. Two examples of the plans available for wagons are included in the section on Mills wagons elsewhere on this site. To complement those illustrations, the picture below gives an idea of what was available to assist the building of trackwork. Coincidentally, the radius for the track shown in one of these drawings is 4 feet 9 inches, the recommended radius for the first large catalogued Milbro locomotive, the 'Hush-Hush' (see the section of this site on locomotives made by Mills Bros.).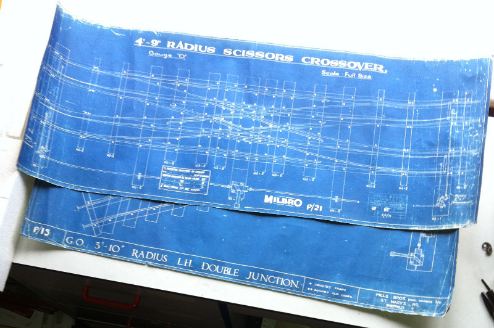 Illustration A8 Examples of trackwork diagrams. This photo has not come out very well, and I hope to improve on it later. The drawings were made full-size by the company in relation to the track and components being delineated.

Four open wagons were sold by the company with 'wrap around' paper artwork fixed onto them. They were described as having wooden bodies together with lithographed paper sides and ends, and were similar in character to items produced by the Leeds Model Company. The papers were also available separately, and quite large numbers have survived. The Milbro wagons were described in our section about wooden wagons, but it seems worth also showing the papers now as parts of the firm's design work.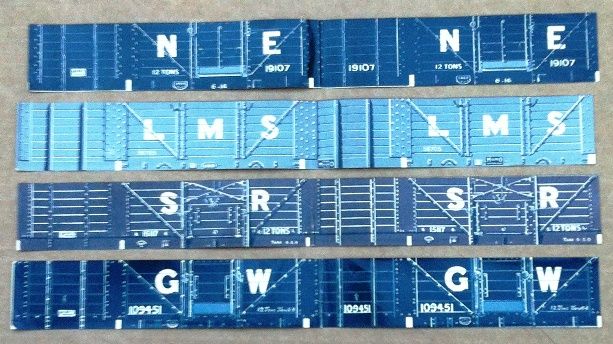 Illustration A9 Papers available for fixing to wagon sides and ends. These are quite shiny, and have caught the light a little too much in this picture. Their actual size is a little under 36mm long.
Amongst the many transfers produced by Mills, the private owner wagon ones are generally the most striking. Transfers were produced for the sides of private owner box vans and open wagons, and for ESSO, PRATTS and Royal Daylight spirit or oil wagons. They were applied to the company's models, and also sold (as pairs) for customers to put on their own rolling stock. Significant numbers of private owner transfers must have been sold, as examples turn up quite frequently (although some seem rarer than others, and there are a few that I do not have at the moment). I also do not possess any examples of these transfers for larger scales, so all illustrations below are for Gauge 0.
The front face of unused transfers is often a little faded and dull-looking, but the underside can look more impressive, where silver may be visible along with hints of the colours that will be seen when the transfer has been applied. Some earlier transfers, however, do not have anything visible from the front, and the back looks very plain (see below, PRATTS bogie wagon transfer).

Illustration A10 A pair of one of the bogie spirit wagon transfers made by Mills. One is seen from the front and the other from the back. See the Wagons section of this website for a photo of an ESSO bogie spirit wagon.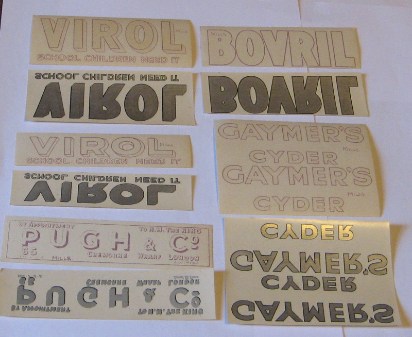 Illustration A11a Some more transfers seen from front and back; VIROL (box van and open wagon versions), BOVRIL (box van), GAYMER'S CYDER (box van), and PUGH & Co (open wagon).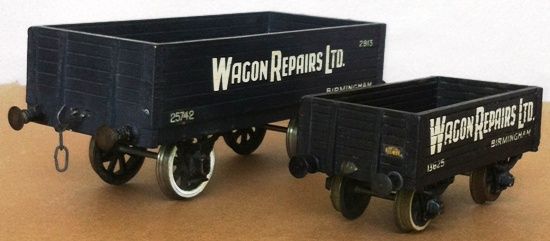 Illustrations A11b and A11c All my examples of 'private owner' wagon transfers are from the range available for 0 gauge, and at present I do not have any I can show from those made by Milbro for larger rolling stock. These two photos include a Mills Gauge 1 wagon that was given transfers made for 0 gauge when it was repainted, but it does at least give an idea of the size of the transfer sheets that would have been needed in the larger scale. (For another picture of these two wagons see the Wagons section.) I am not sure that this specific PO livery was supplied in the larger size, so this Gauge 1 wagon may well look like what Milbro would have sold in response to a request for this livery on a G1 vehicle.


Illustration A12 The transfer for the PRATTS bogie spirit wagon. This seems a relatively scarce item.
Some transfers carry the word 'MILLS' on the front, which clearly helps as an identifier. The company do not seem to have been very consistent with this, as can be seen from the pair of EVESON transfers shown in the next illustration.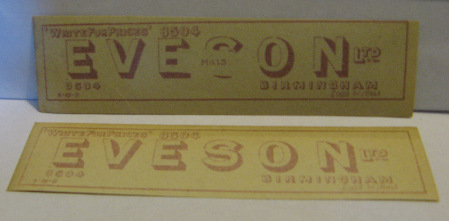 Illustration A13 Two EVESON transfers.
Direct advertising
The Home Page on this site features the cover of a Milbro advertising brochure, and the Introduction section includes a picture of catalogue covers. Some further scans and photographs are included now of three versions of brochures (including the one on the Home Page).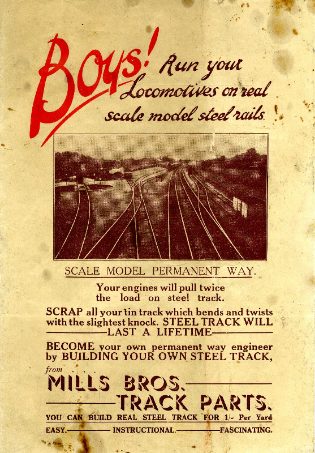 Illustration A14 Cover/front page of a brochure with six panels and a folding-in strip along the base. Actual page size is about 153mm by 223mm.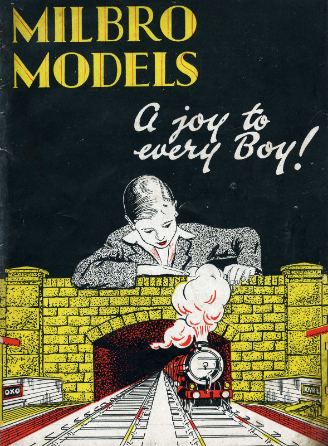 Illustration A15 The brochure cover/front page shown on our Home Page. This brochure has eight panels. Actual page size is about 125mm by 174mm.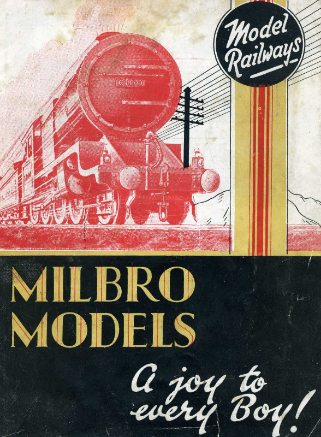 Illustration A16 The cover/front page of another brochure with eight panels. Actual page size is about 125mm by 170mm.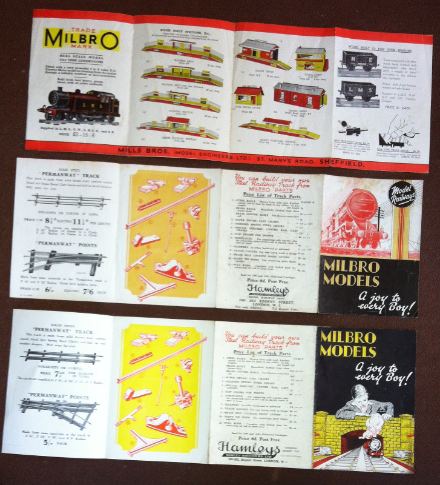 Illustration A17 Three unfolded Milbro brochures. The top two are the same as each other, but seen from reverse sides.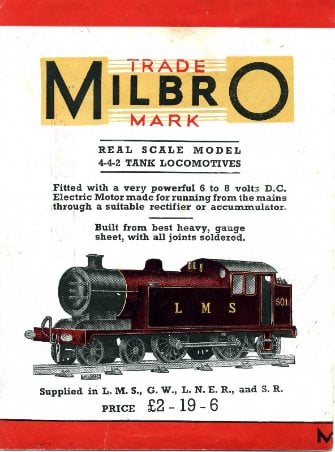 Illustration A18 One of the panels, showing a standard tank model.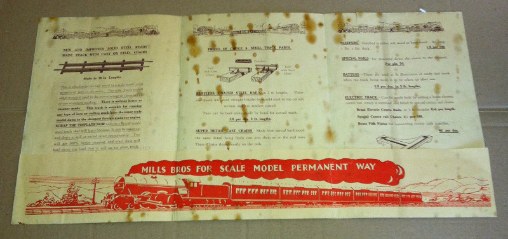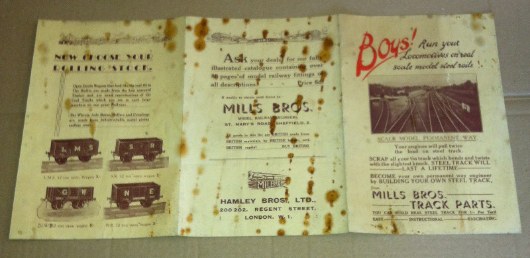 Illustrations A19a and A19b The other brochure, seen from both sides. The red drawing of a train folds in. The paper has been damaged, perhaps by grease, oil or rust, but the item is a rare one. These two photographs make the paper look less brown that it actually is !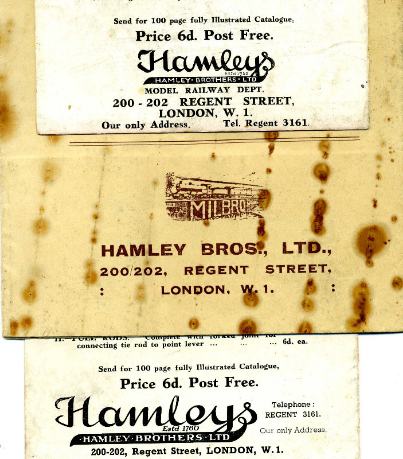 Illustration A20 All the three brochures shown above carry the retailer Hamleys name at the foot of the back panel.