Coaches made by some of Milbro's competitors and successors (... UNDER DEVELOPMENT ...)
Draft material only; under development 2020
For purposes of comparison, and to supplement information available elsewhere from other writers, we comment briefly here on some features of coaches offered by Milbro's competitors and successors, and hope to enlarge material on this later (adding Bond's, Douglass, R Models, Exley, Leeds, W & H, etc.)
Bond's ...................
Exley INITIAL MATERIAL ONLY ...
Exley coaches are very well known amongst model railway operators and enthusiasts, and the firm produced them over a long period, from the pre-war vintage era through into the second half of the twentieth century. The standard 0 gauge ranges were extensive, and the vehicles generally have a convincing and attractive appearance. Coaches of this type have metal bodies (made in a wrap-around form incorporating roof, sides and solebars), wooden bases (albeit with some attached metalwork), and cast ends, so that there is a very clear contrast with the items from Milbro's wooden standard coaches range or the LMC ranges. The visible difference from Milbro is accentuated when the Mills coaches have full early-style panelled sides rather than flush ones. For the windows, Exley used long strips of glass running through the length of the vehicles, and held by spring clips (whereas Mills coaches have individual panes fitted into slots in the wood, and coaches from some other makers have glue to fix the glass).

The best published source on Exley coaches I have seen is Ramsay's Guide, and I will draw on the seventh edition now for key points about these vehicles. Readers can find a fuller description there (including coverage of Exley 00 gauge), together with useful illustrations: see "Ramsay's Catalogue of British Model Trains", Compiler and editor Hammond, P., 7th Edition, British Railway Modelling, Warners Group Publications, Lincolnshire, 2011. Hammond notes that the Exley "coaches made before 1940 tend to be more accurate to the prototype", whereas in the post-war years ("after the introduction of the K5 series, which were largely based upon the LMS Stanier profile"), it became "a matter of changing livery, rainstrips and window positions" (page 189). Importantly, the tooling for the coach bodies was upgraded around 1950 "to the style most commonly found today" (page 187). There were also changes in the same period to the ends on Exley coaches. In the pre-war years these had been alloy castings showing planking detail, and were "bowed if it was so on the prototype", whereas the new castings were to a more modern pattern "based on the LMS Stanier coach end" (page 188). Bogie designs also differed from the earlier period. It seems that detailing underneath coaches was initially very simple for standard coaches (with wooden box shapes before the war, similar to those on Milbro vehicles), but that in the decades after the war pressed metal battery boxes were deployed, and underframes became more detailed. Hammond also notes that the wooden floors sat higher inside the coach bodies during the pre-war and early post-war period (page 188).
Exley coaches may quite often be found set up for two-rail running, and the post-war ones have a relatively fine-scale 'look' that makes them useful for a variety of layouts. I understand that in 0 gauge the post-war versions are preferred by some collectors today, and these include the K5 and K6 types (the latter perhaps being seen as the best). At the same time, however, we can note that some especially rare and distinctive pre-war vehicles may remain sought after. Further developments in the post-war years after the K6 range are noted by Hammond, including the use of an Exley 'Moddex' trade mark, and plastic coach ends (page 188). It seems that plastic might also be utilised in the later years for some components underneath the coaches. I have been informed that after the production of standard types ceased, further items were marketed from Exley at Baslow; reference is sometimes made in that context to coaches described as being by 'Clegg for Exley'. I gather that body pressings could be sourced by Clegg in these years from his own production or from Westdale. It is important to note more generally that specific distinctive items were also available from time to time from Exley over a long period, some being made to meet particular requests.

UNDER DEVELOPMENT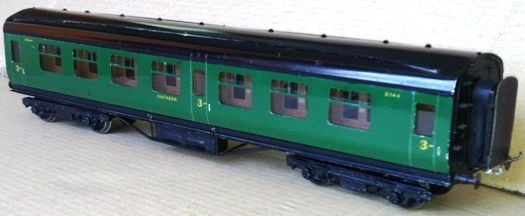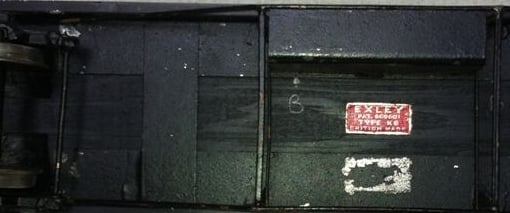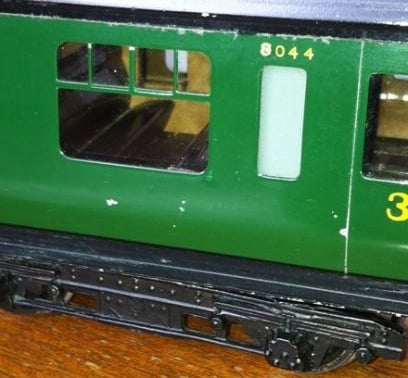 Illustrations OC25a, OC25b and OC25c. These pictures show features familiar to Exley operators, including a company label, interior detail (with seats), and metalwork underneath the coach attached to a wooden base. The firm's labels quite often seem to be missing.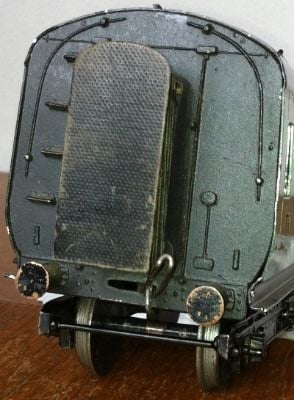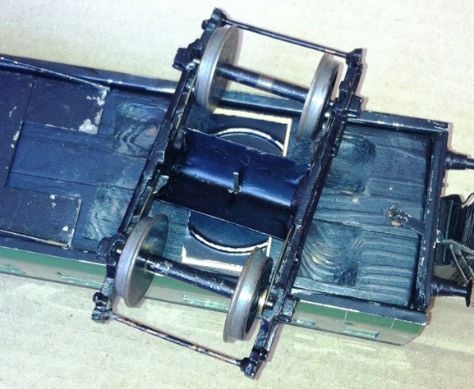 Illustrations OC25d and OC25e. Examples of a cast coach end and Exley's own standard sprung bogie. I am informed this is the version from the post-war period. It is mounted on an aluminium fitting attached to the wooden coach underside. I understand the sides of the unit are castings, while the bolster is of tinplate.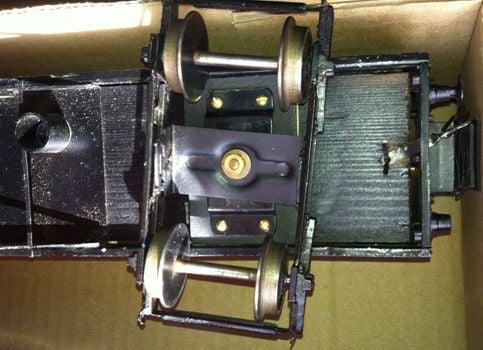 Illustration OC25f. A Bassett-Lowke bogie, as found on some Exley coaches. This is mounted on a shaped steel bearing plate screwed onto the wooden base of the coach. Bassett-Lowke marketed Exley coaches along with the products of some other companies (including Milbro).




Illustration OC26. An Exley late period high quality LNWR coach, probably part of a smallish batch (or conceivably even perhaps a single special order item). This is not one of the Clegg vehicles noted above. I think that this is an exceptionally attractive model, with its convincing paintwork and excellent 'toplights', and it is in superb condition.
Leeds .....................
'R' Models of Cheltenham produced some very interesting coaches using wood for the bases but cardboard for the sides, and perspex windows, etc. These must have been economical to make in materials terms, yet they were surprisingly sturdy and had excellent artwork. Collectors of more modern coach models might like to make comparisons with Newman's coaches (which are quite highly regarded today).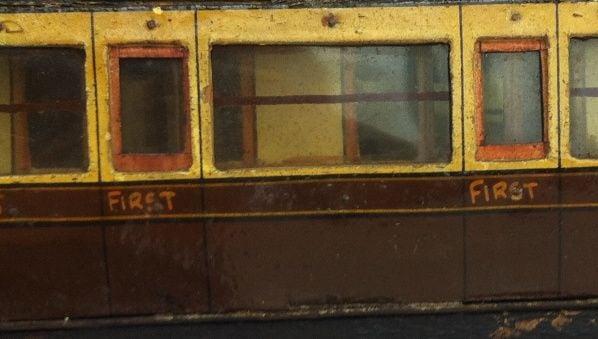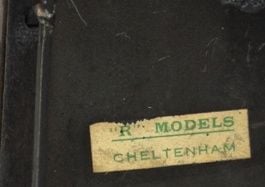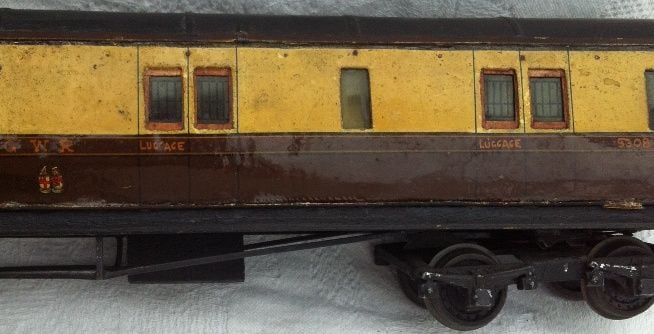 Illustrations OC50a-OC50d. The first two pictures show features of a standard coach type, and the bottom photo shows a luggage section on another coach. The third picture is of the firm's label (magnified), on the underside of one of these coaches. It was also applied to wagons.
W and H Under development ...........
This firm operated as a model railway retailer from its London premises over a very long period and into relatively recent times. It also sold its own products and seems to have made both locos and rolling stock in the pre-war years. I do not know whether the company also did this in the early decades after the war, but that is certainly possible. Coaches seem to have been offered in the inter-war years in Gauge One, 0 gauge and 00 gauge. Single illustrations may be found for Gauge One and 00 in The Model Railway News of June 1933 (9, 102, page 160), and in Beal, E., 'Scale Railway Modelling Today' (A.& C. Black Ltd., London, 1939, opposite page 198). The reputation of the firm's 1930s products seems to have been very high (see commentary by Hamilton Ellis at pages 124-125, in 'Model Railways; 1838-1939', Allen & Unwin, London, 1962), although some items may have been made by outside contractors. In the 1930s, Walkers and Holtzapffel appear to have had both a 'coach shop' and a 'loco shop' of their own, making models (see advertisement reproduced below). The approach to production looked highly distinctive for the period, as the firm was making full coach sets to order, representing specific trains. There is no indication of prices below, but my guess is that their commissioned coach models would have been very expensive.
After this advertisement we show some initial pictures of Walker and Holtzapffel 0 gauge LMS coach details. The two vehicles drawn on here are believed to be from the 1930s, and seem to have been built to quite an exceptional standard for their time. They were part of a large group (comprising at least nine differing items), that came to the excellent Executor and Trustee service of the Gauge 0 Guild, but it is possible that the original commission to Walkers & Holtzappfel was for more rolling stock than that. Perhaps the full set was originally designed to allow its owner to run trains that matched a couple of the full-sized ones running on the LMS at the time, although I have no information to verify this. I currently have three examples of the ordinary coaches, all of which were in a very distressed condition when I bought them, primarily through loss of glazing but also with other minor problems from long use. Repairs and renovation are under way as far as time allows! In addition, I hope later to show a postal vehicle and one of the two sleeping cars (a twelve-wheeler) that the set included. The group sold in 2019 also included a dining/restaurant car, a kitchen car, a full brake, and a shorter sleeping car, but I do not currently have any further information on those. The vehicles were fitted with lighting, and seem to have had adapted Bond's bogies when built. These bogies were mostly changed by an owner later on for Bassett-Lowke ones, and the latter were converted for two-rail finescale running. It appears that the set was intially for a three-rail coarse/standard scale layout. Although the 00 versions of Walkers & Holtzappfel coaches were captioned by Beal as being "All-Metal", these gauge 0 ones have wooden floors.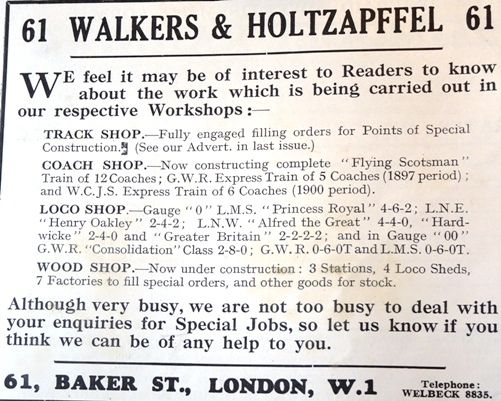 Illustration OC60a. Walkers & Holtzapffel advertisement of August 1936; the firm was selling complete trains of coaches. See The Model Railway News, 12, 140, page vi.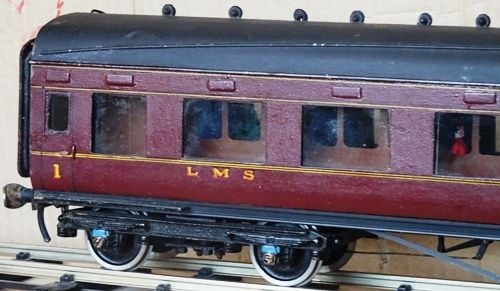 Illustrations OC60b and OC60c. When I purchased this coach it had sustained some damage to its glazing, but its bodywork and interior were still in a fairly good state. The bogies are Bond's ones that were amended, presumably when they were fitted by W & H. More recently they were altered by the then owner to accommodate fine-scale wheels.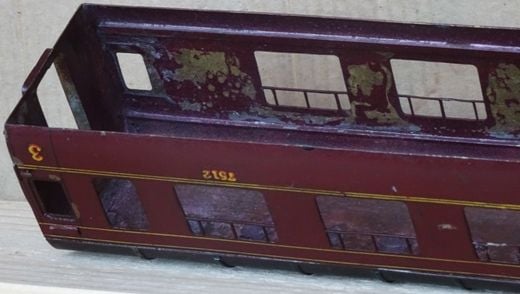 Illustration OC60d. Body construction characteristics shown on a second coach. These vehicles were designed to come apart, the sides-ends-and-roof section originally being held in place by four very small screws. The building material seems to be brass, and the glass for windows was glued into place.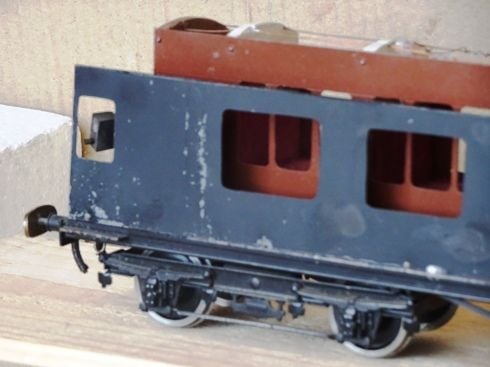 Illustration OC60e. Interior construction of coach, showing metalwork complemented by wooden section dividers, and 'Mills-style' bulbs linked up for the lighting. My photo here has not turned out very well, and I hope to do some better ones later. Most of the coaches in this set had been fitted with Bassett-Lowke bogies, replacing the original Bond's-based ones.



Illustration OC60f. Detail below the body. Unusually complex for the 1930s, but the maker nonetheless used wood for the box shapes (just as Milbro and Exley were doing in this period). The buffers were also constructed in a more complex way than was usual at that time.
.