**Material added most recently to this section in September 2019**
Gallery: for images of rolling stock by Milbro and other vintage makers
This Gallery is mainly for rolling stock pictures, although the illustrations of wagons here may sometimes include locos too. The plan is to provide some additional illustrations of Mills items to supplement our other sections that deal with Mills wagons and coaches. In addition, we hope to show some rolling stock from other companies of historical interest where few pictures have previously appeared on the internet.
Examples of some types of Milbro wagons in 0 Gauge, to add to those shown in the Wagons section


Illustration G1 Two 0 gauge carriage wagons. The one at the front is in good shape, although it needs a repair to one of the ends of its sole bars, and has had some unsightly pins added by a previous owner. The one behind has been given a very crude repaint at some stage. I have managed to uncover original transfers from beneath that paint, and when time permits will try to restore its original appearance. I think the loads that have been put along the wagon may well have been added by Mills to a specific order (although they too have been subjected to repainting). The strapping on them looks similar to that which is characteristic of early Mills wagons. I need to investigate the wooden vertical supports that form parts of the sides of this wagon, as I am not sure whether the large number of these might also be the result of a special order. Both wagons have some quite large lettering, suggesting they were made before the later period of production, although the wires and split pins on the front vehicle are consistent with that later period.


Illustration G2 This is the rare PRATTS bogie spirit wagon (Gauge 0). Many thanks to its owner for providing this picture. For the transfer sheet used on these wagons, see the Artwork section of this website.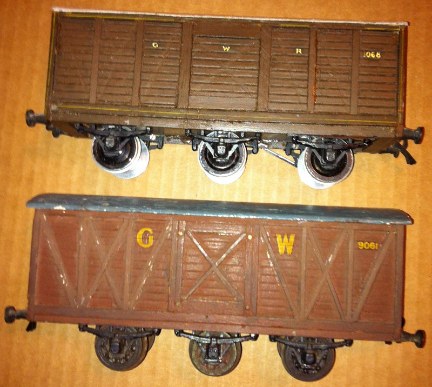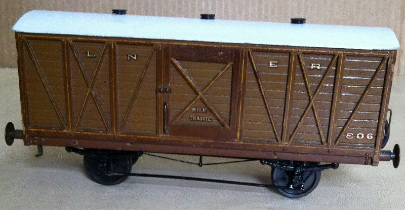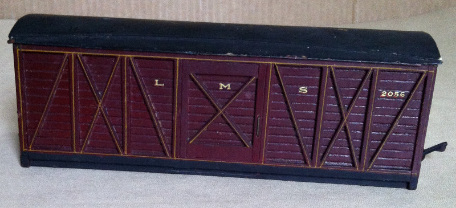 Illustrations G3a-G3d These four vehicles are Milbro gauge 0 milk vans, like the Southern one pictured in the Introduction section on this website. All are of similar dimensions, but two are not quite as when catalogued by the company.

The first van in the top picture here has lost some of its external framing and subsequently been part-refinished or revarnished by a previous owner. The pieces of wood that form the framing on the Milbro six-wheelers sometimes become loose, with failure of the glue or distortion of the woodwork, and perhaps the owner may have felt he should make the best of a bad situation by regularising the pattern ! I hope to make and glue on some replacement pieces when time permits. The second GWR van is an earlier model than the other three, being a little coarser in its construction. The third model is an LNER one which has either been built from Mills parts as a four-wheeler, or rebuilt from a factory version; I have been advised that recollections indicate it was assembled or altered by an enthusiast rather than by the factory. It is a superb model with an impressive finish. The LMS van at the bottom had lost some of its outside framing pieces but the majority of those missing were still 'loose in the box' when I got it, and I have begun a simple restoration.
Three of these vans were purchased via Ebay, despite Milbro milk vans being relatively scarce. The early GWR one, however, was bought from 'Stop the Drop'. It lacked its central pair of wheels and axle boxes when auctioned there. One of the attractive features of the three 'later period' vans here is that they retain some or all of the thin lining that runs along the sections of framing.
Some Gauge One Milbro rolling stock (wagons and coaches)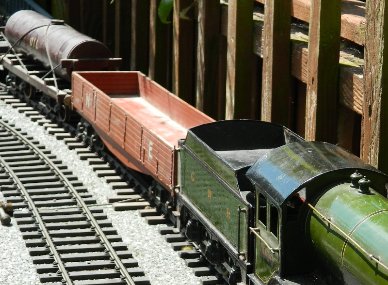 Illustration G4 Garden railway running in Gauge 1. The two wagons pictured here are Milbro models, probably both from the earlier period of production. One is a bogie brick wagon and the other a large spirit/oil wagon. I am grateful to the owner of these items and of the others in Illustrations G5-G8 for letting me have pictures of them.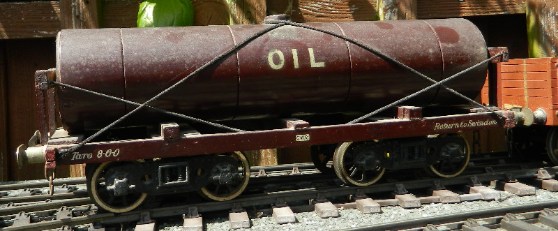 Illustration G5 A closer view of the bogie OIL wagon. See also the 4-wheel OIL wagon in Illustration G8 below. For related material on early oil wagons in Gauge 0, see Illustrations W33 and W34a-W34d in the wagons section of this website.



Illustration G6 Another of the Milbro bogie vehicles on this Gauge 1 layout.


Illustration G7 Gauge 1 version of the Milbro 4-wheel carriage truck. Despite slight damage it is in good condition given its age. The SR label is oddly matched by the reference to Manchester, a reminder that this is a factory model (rather than a kit-built one with transfers selected by an enthusiast). Note the type of wheels used here; fitted on selected wagon types as well as on coaches.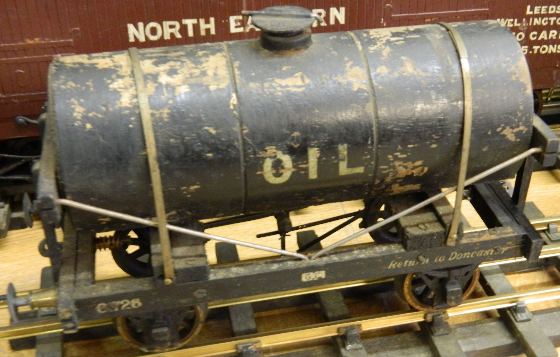 Illustration G8 Close-up of a Gauge 1 4-wheel OIL wagon.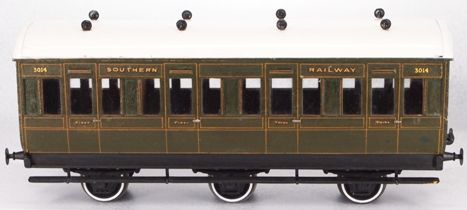 Illustrations G9a-G9c Three Milbro Gauge One Southern coaches; a First/Third, a six-wheeler, and a First/Third Luggage. I am grateful to the owner of these vehicles for providing the photographs, and for some similar portraits of 0 gauge Southern stock that are presented in our Coaches section of this site.
I think that in some ways the Milbro approach to wooden coach construction seems particularly appropriate and effective in Gauge One.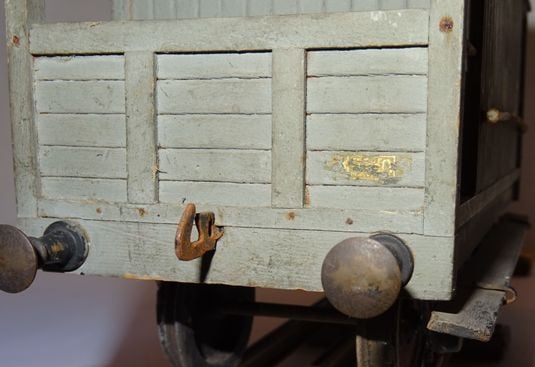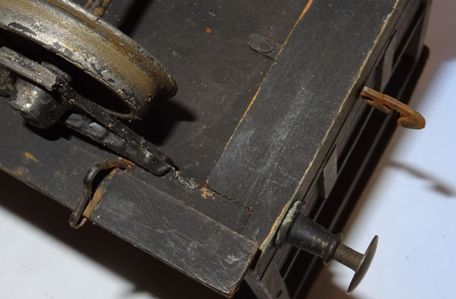 Illustrations G10a and G10b Details of a Milbro Gauge One LMS brake van that is also shown in Illustration W5d in the wagons section of this website. It can be seen that practices of construction (including the use of split pins below the bodies of brake vans) are similar to those on 0 Gauge vehicles. Many thanks to the photographer who supplied me with these pictures.


Illustration G11 Milbro Gauge One bogie box van. A large vehicle that was part of the rolling stock on a North of England model railway layout that I understand operated out-of-doors. Wagons had been commissioned as special orders with the owner's requested lettering (L E) instead of the insignia of a UK railway, and in some cases with particular distinctive construction features. See also Illustration W5b in our Wagons section of this website.

This van is in good condition, except that the majority of the wooden sections that formed the external framing on the body sides have fallen off ! It would be easy to make some new ones and glue them on.

The GW 4-wheel open wagon is for 0 gauge, and is included to emphasise the difference in size. A small metal figure may also be seen between the two wagons.
'R' Models of Cheltenham
Reference is made to 'R' Models in our section on Mills wagons, where an example of the firm's GWR rolling stock is shown. This is complemented now by a few more pictures, including a photo of an 'R' Models catalogue page, and pictures of examples of the two types of wagon shown there by the firm. To see a few illustrations of the card coaches the company made, see our section on Milbro coaches.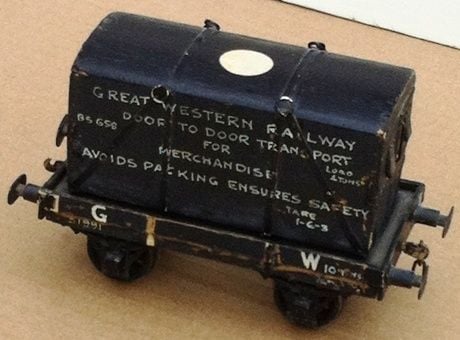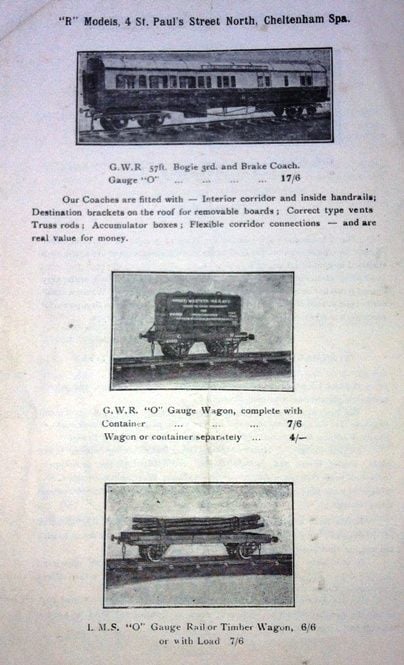 Illustrations G20a, G20b and G20c These wagons are quite realistic for their period, although (as with some Mills wagons) the silvered card strapping has proved vulnerable. A previous owner has altered the underside of the timber wagon shown in G20c by relocating the original wooden support pieces away from their usual positions behind the buffer beams in order to strengthen the wagon sides, and replacing these two pieces with narrower ones. This would be easy to put right, especially as the wooden sections that have been moved seem to match the thickness of standard track sleepers. I do not know if the buffers on the timber wagon are original or replacements.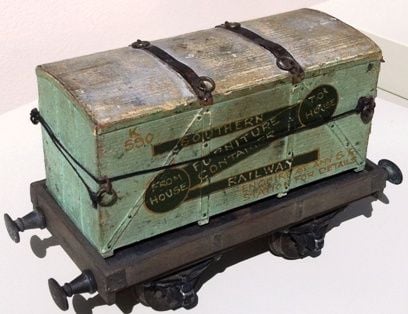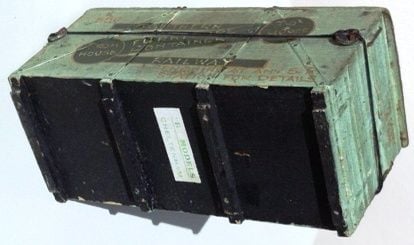 Illustration G21a and G21b 'R' Models container wagon loads could be purchased as separate items, and the Southern Railway one shown immediately above has been placed on an adapted Milbro wagon.