The main purpose of this site is to provide an introduction to model railway products sold under the Milbro trademark by the Sheffield-based firm of Mills Bros., both before and after World War Two. To complement and supplement this, we will also add to the information available via the internet about railway models, mechanisms and motors made by several other firms between the 1920s and 1970s.
The UK Mills Brothers company was referred to initially in its catalogues simply as Mills Bros., and described as a Model Railway and Commercial Model Builders. Then, from 1935-36 until the late 1940s, it was referred to formally as Mills Bros. (Model Engineers) Ltd. Finally, following ownership changes and what seems to have been a division of functions between model railway work and model aero-engine production, the model railway activities were continued through the 1950s under the name of Mills Bros. (Sheffield) Ltd. (For more about the firm after the war see the Locomotives section.)
The general aim for this website is to discuss and illustrate a range of items in a way that may interest model railway enthusiasts and collectors, especially those involved with vintage 0 Gauge toys and models. The site is being developed by Malcolm Harrison, with advice on some of the content from other enthusiasts with knowledge of vintage trains, and with technical/computing support from Gill Harrison. Illustrative materials and text are being added gradually to the site (a process which began in November 2013). This is a not-for-profit enterprise, primarily to help fill a gap in what is currently available about Milbro trains, but also to try to provide some brief material that might be helpful for people investigating other firms.


Illustration H2 Milbro 0 gauge NE atlantic loco, probably from the early 1930s. This is made of tinplate.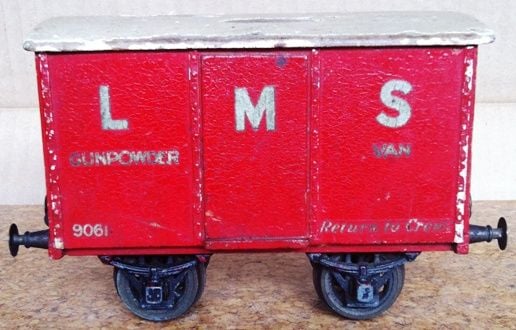 Illustration H3 Milbro 0 gauge gunpowder van. An example from the large range of wooden rolling stock produced by the company. This particular model is probably from the late 1920s or early 1930s.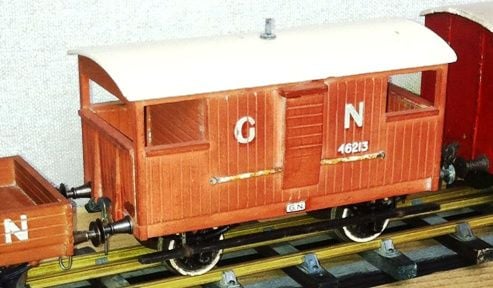 Illustration H4 A rare example of a Milbro GN brake van. This is in good condition, with its trade mark intact. I do not know of any catalogue picture of this vehicle.
Most of the photos shown will be of Milbro rolling stock, locomotives, accessories and associated published material or art work, but (in line with the intentions outlined above) some models or components from other manufacturers and retailers will be included too. This may be to help provide context, to illustrate, to show specific features, or to make comparisons.
At the moment there are a few illustrations of wagons from LMC and two other producers in the section on Milbro Wooden Wagons. There is also some general illustrative material on locomotives and motors from various firms in the section on Vintage Locos and Motors. This currently includes a sub-section on Bonds, one on Vulcan of Kendal, and one on R.M.Evans, as well as some preliminary comment and photos on Douglass Models and Superscale Models.
Across the site as a whole, discussion may mention Bassett-Lowke, Beeson, Bonds, Bowman, CCW, Douglass Models, Exley, Gresham Models, Hornby, the Leeds Model Company, Miller/Miller Swan and Co, MRCo, R.M.Evans and Co, Pittman, R Models of Cheltenham, Read Maxwell, Rocket Precision, Romford,Tyldesley and Holbrook, Vulcan of Kendal, Walkers and Holtzapffel, and the Windsor Model Company. More recent manufacturers may also be referred to briefly, including Ace Trains. Beeson not only produced models sold directly, but also built for makers such as Mills, and this will be illustrated.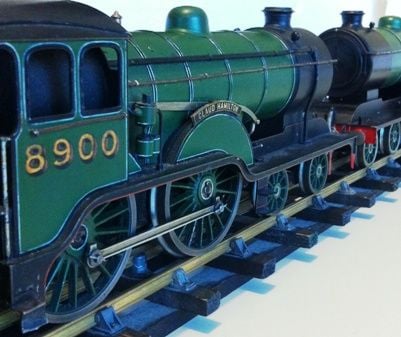 Illustration H5 Two LNER Claud Hamilton locos by Beeson, thought to be from a batch made for Milbro (see other sections of the website for further comment). As with the loco in Illustration H2, these models are made in tinplate and were for gauge 0. (The loco near to the camera was changed in a few relatively minor ways by its previous owner, and this included replacing the wires through the crank pins with something a little rough and ready.)

There is a Gallery section which I have begun to use for adding more pictures of Mills rolling stock, and it may later also include illustrations of wagons from some less well-known producers.
Milbro track was something for which the company seems to have been well known, and some selected catalogue illustrations of track and related products are included in the section of the site that covers 'Other' Milbro items. Actual sections of 0 gauge track included in some photos, however, have a variety of retail origins.
Coverage in the comments and illustrations mostly relates to Gauge 0 rather than to larger scales, but some examples of Gauge 1 wooden rolling stock are included (see particularly the Gallery section), and I plan to add more later on.
Enthusiasts often refer simply to 'Mills' locomotives or wagons, as an alternative to saying Milbro or Mills Brothers. Discussion on this site sometimes follows that practice.
For further background information see the Introduction page.
Please note that permission should be sought from Malcolm Harrison before reproducing anything (text or illustrations) from this website. Copyright is retained by the author (or in particular instances by those who have supplied specific photographs). I have included some photos I have taken of printed items (catalogues, documents, etc.), and also some scanned illustrations. I hope this does not transgress any copyrights held by anyone else, but if so please let me know. In most cases these items are from firms that no longer exist, or of products advertised many years ago.
I hope to increase the links from parts of my text to relevant websites. I have often consulted the very useful and well-known binns road site (see below), and have inserted links to two specific sections on that site when commenting on Bonds and Windsor Models in my section about Vintage Locos and Motors. There also seems to be growing interest in other countries in providing information and advice about vintage model railways on the internet, along with specific contributions from particular experts, makers and enthusiasts. Some of the sites are first rate, and new ones are under development. A very nicely-designed vintage trains example I have seen recently is from Australia, while the Fitzroy Locoworks site offers an intriguing view into some impressive ongoing developments (these two links are below):
Hornby Railways (Australian site):
For links to two sites that contain valuable material on Leeds Model Company items see: